Organic Eye Contour "BLINK"
Regular price

Sale price

$61.00
Date d'expiration:
28/02/2025
The éméo eye contour product is the result of many months of formulation, and is now loved by many!
First of all, its name "BLINK" was inspired by: "Blink and it's gone," which is what we want for under-eye bags, dark circles, and fine lines.
We have carefully selected organic botanical actives and organic plant oils to take care of the delicate skin around the eyes and address the issues of this sensitive area.
Ingredients
Roasted Coffee Oil: In a previous article, I already mentioned this oil, which is rich in unsaponifiables, particularly cafestol, which protects the skin from aging and has draining properties. It also has a delightful and delicate coffee aroma. In an in-vitro study, it demonstrated an increase in collagen and elastin fiber synthesis, making it ideal for mature skin. Another beneficial element of this oil is its high linoleic acid content, which acts as an excellent anti-inflammatory and regenerative agent.
Safflower Oil: Safflower oil acts on microcirculation by constricting blood vessels due to its high vitamin K content. It is also restructuring and reparative, thanks to its linoleic acid content.
Borage Oil: Borage oil primarily provides the skin with a fatty acid that women often become deficient in as they age. It is well-known for its anti-aging properties and is suitable for dry skin. It restores suppleness, elasticity, and firmness to the skin, providing nourishment. It is also known for its anti-inflammatory properties and can relieve eczema and other issues related to atopic skin.
Pomegranate Seed Oil CO2 extraction: This oil is known for its antioxidant and skin-repairing properties. It also helps reduce free radicals caused by UV exposure. In addition to its soothing and calming properties, studies have shown that it stimulates the proliferation of keratinocytes (epidermal cells) and aids collagen production.
Rosehip Seed Oil CO2 extraction: The impressive amount of provitamin A (in the form of retinoic acid), vitamin C (85 mg per fruit), and vitamin E, with its strong antioxidant properties, help maintain skin elasticity and counter the harmful effects of sun exposure. It also has astringent properties (high tannin content) and diuretic effects (reduces under-eye bags).
Organic Botanical Extracts
Horse Chestnut Extract: This extract is rich in escin, which is a common name for a group of triterpenoid saponins. They reduce the fragility of capillaries to decrease edema caused by fluid accumulation in the intercellular space. It has also been shown to slow down the aging process.
Butcher's Broom Extract: Butcher's broom (Ruscus aculeatus) is an evergreen shrub found in warm European regions. Its extract contains resin, mineral substances, saponin, tannin, and ruscogenin (specific components of butcher's broom).
Butcher's broom extract has an astringent and anti-inflammatory effect. It limits the appearance of facial redness and drains under-eye bags or dark circles after a restless night.
Eyebright Extract: Eyebright is a flower often used in the treatment of eye disorders such as inflammation, infections, or redness, thanks to its active ingredient aucubin. This natural astringent, due to its tannin content, can help tighten the skin tissues and make it appear more rested. It calms and soothes the eye contour.
éméo Tips
Store it in the fridge for an extra cooling sensation to encourage tissue contraction.
Avoid applying Blink in the morning if you are wearing mascara.
Composition
Coffea Arabica Seed Oil*, Carthamus Tinctorius Seed Oil*, Borago Officinalis Seed Oil*, Punica Granatum Seed Oil*, Rosa rubiginosa seed oil*, Helianthus Annuus Hybrid Oil, Aesculus Hippocastanum Extract*, Tocopherol, Ruscus Aculeatus Root Extract*, Euphrasia Officinalis Extract*, Rosmarinus officinalis leaf extract. *ingrédients issus de l'agriculture biologique. *certified organic ingredients. 100% naturel – 99.7 % bio
Packaging
15ml glass bottle with a pump.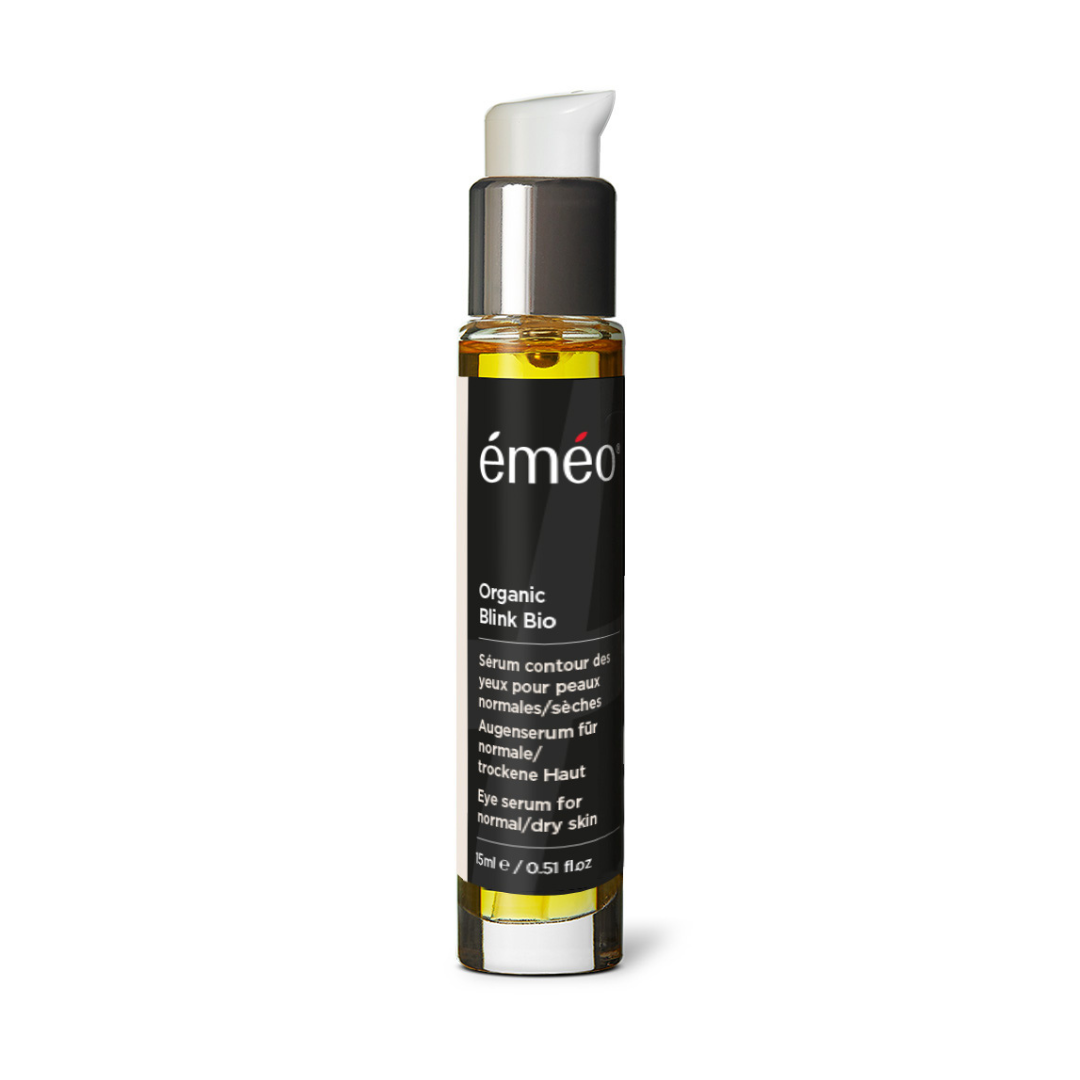 Suitable for pregnant and breastfeeding women

Maximum effect for minimum ingredients

Natural botanical actives

Formulated and manufactured in Switzerland